Joy to their world and yours!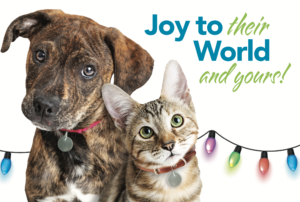 This year, First Coast No More Homeless Pets helped so many pets in need throughout Northeast Florida by offering affordable and accessible veterinary care as a safety net that helps keep families and their pets together.
And right now, we really need your help to continue to bring the joy, comfort and love area pets so desperately deserve this holiday season… and in the months to come.
Fortunately, your gift will now be matched dollar for dollar, up to $100,000, thanks to the incredible generosity of longtime friends of First Coast No More Homeless Pets.
---
Donate Now:
---
Donate one time through PayPal
Donate securely through PayPal with a one-time donation:
---
---
All checks can be made payable to FCNMHP and mailed to the address below:
First Coast No More Homeless Pets
6817 Norwood Avenue
Jacksonville, FL 32208
PHONE
Our donation department can be reached via telephone by calling 904.520.7900.
Our Wish List
Click below to view our wish list to donate items.