Your gift can be doubled for pets in need!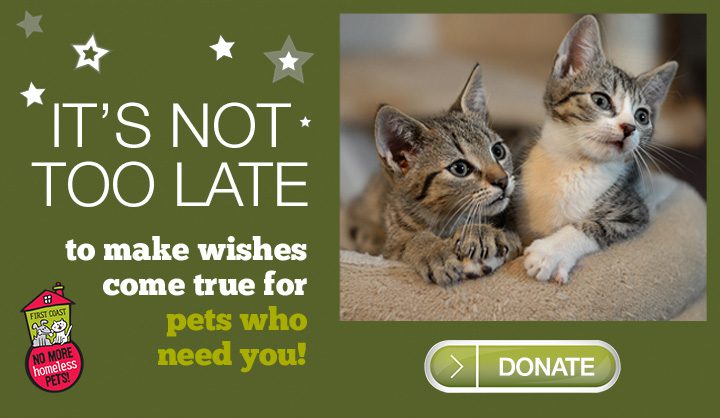 Our long-time donor, Joseph A. Strasser, has offered to match all gifts up to $100,000.
Thanks to friends like you, we already met that goal … so Mr. Strasser decided to increase the match to $150,000.
Your gift today will mean twice the love and twice the care for pets in need.
First Coast No More Homeless Pets is not a shelter; it makes shelters stronger with a broad range of comprehensive programs like a low-cost or no-cost spay neuter initiatives, the Jacksonville Pet Food Bank, large-scale adoption events, and much more.
---
Donate Now:
---
Donate with PayPal
Donate securely through PayPal with a one-time or recurring donation:
---
---
All checks can be made payable to FCNMHP and mailed to the address below:
First Coast No More Homeless Pets
6817 Norwood Avenue
Jacksonville, FL 32208
PHONE
Our donation department can be reached via telephone by calling 904.520.7900.
Our Wish List
Click below to view our wish list to donate items.