Donate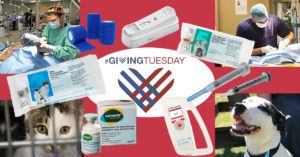 This Giving Tuesday we have a unique proposal for you – 100% of your gift today will go directly to the purchase of critical medical supplies needed for the delivery of low-cost, high-quality veterinary services to all our neighbors.
We see thousands of pets, and the people who love them, every month, and we work hard to keep pace. We use items like dog parvo vaccines, feline vaccines, syringes, bandages and so much more. It cost more than you might imagine. We are not asking for donations to support general funds; we are giving you the opportunity to join other supporters as you purchase the very tools our doctors need to save lives and treat animals.
$17 – Provides one parvovirus vaccine to help fight the deadly virus
$30 – Pays for 200 syringes
$45 – Purchases a three week supply of bandages
$60 – Provides three parvovirus tests
$80 – Produces five feline vaccines
$288 – Pays for a Convenia antibiotic injection treatments for 10 cats
$350 – Buys a microchip scanner that lasts for several years
$650 – Produces a complete spay/neuter pack for the veterinarian
---
Donate Now:
---
Or Donate With Paypal
Donate with PayPal
Donate securely through PayPal with a one-time or recurring donation:
---
---
All checks can be made payable to FCNMHP and mailed to the address below:
First Coast No More Homeless Pets
6817 Norwood Avenue
Jacksonville, FL 32208
PHONE
Our fundraising department can be reached via telephone by calling 904.520.7900.
---
Our Wish List
Click below to view our wish list to donate items.