Rush Meds to Pets In Need!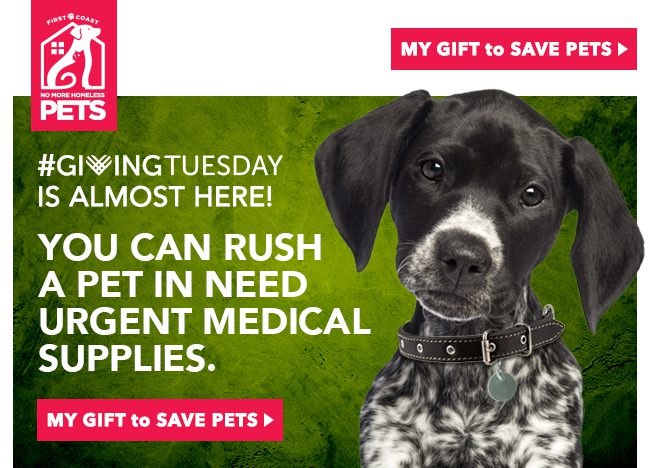 Why wait for Tuesday to bring compassion and care to pets in need?
If you make your gift to First Coast No More Homeless Pets today, 100% will be used to buy critical medicine and supplies to help pets during this holiday season!
No administrative costs mean ALL OF YOUR GIFT helps pets and other animals in our community receive the lifesaving care they need. There's nothing better than a happy puppy and a healthy kitty thriving and feeling good!
Don't wait for tomorrow, make your gift today so pets receive the urgent care they need and have a chance to know health and happiness.
---
Donate Now:
---
Donate one time through PayPal
Donate securely through PayPal with a one-time donation:
---
---
All checks can be made payable to FCNMHP and mailed to the address below:
First Coast No More Homeless Pets
6817 Norwood Avenue
Jacksonville, FL 32208
PHONE
Our donation department can be reached via telephone by calling 904.520.7900.
Our Wish List
Click below to view our wish list to donate items.