2017 Annual Fund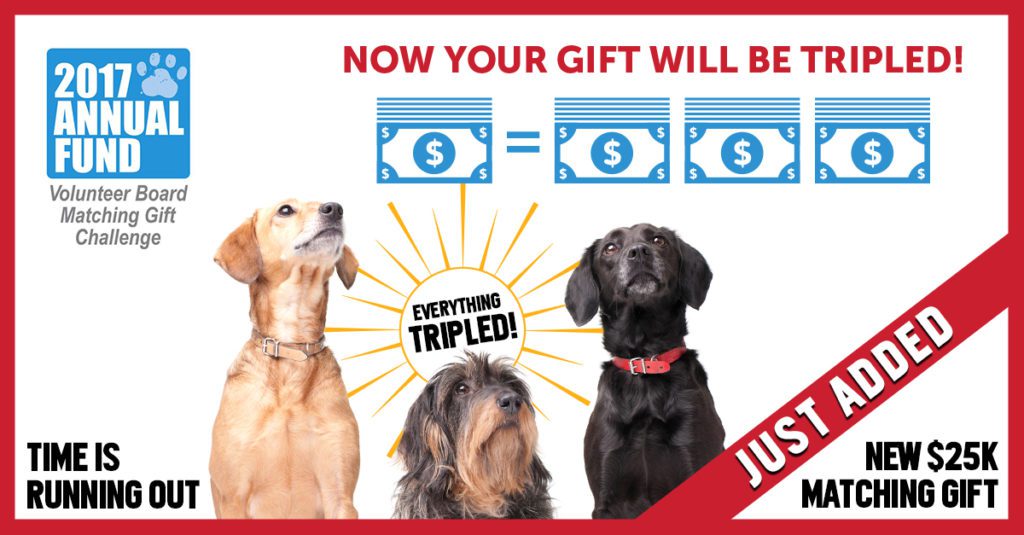 New $25,000 Matching Gift will Triple Your Gift
Every dollar you donate will be matched with TWO additional dollars during the last days of our Annual Fund Campaign thanks to a $25,000, mid-campaign matching gift from a passionate donor. Yes, that means that your gift will be TRIPLED, but only if you act before June 30.

You won't want to miss out on this opportunity to triple your impact and help the many animals still in need.
We ask you to join our Volunteer Board of Directors and the very special donor who have joined forces to triple your gift. They believe in our mission to end the killing of dogs and cats in shelters in our community, Northeast Florida, and the nation. Will you believe in our mission and make an Annual Fund Gift today? Time is running out with this 2 for 1 match…
---
Donate securely through PayPal with a one-time or recurring donation:
* Please mark "Annual Fund" in the special instructions section!
---
All checks can be made payable to FCNMHP and mailed to the address below:
(Please write "2017 Annual Fund" in the memo)
First Coast No More Homeless Pets
6817 Norwood Avenue
Jacksonville, FL 32208
PHONE
Our donation department can be reached via telephone by calling 904.520.7900.