Stray & Feral Cat Resources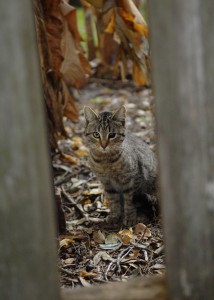 Trap-Neuter-Return (TNR) is the only humane and effective method for controlling feral cat populations.  Our TNR program is available to all people caring for feral, stray, free-roaming or community cats.
For a limited time, spay/neuter is FREE for all feral cats with proof of your Duval County residency.  Take advantage of this offer today!
Feral cats can be seen with or without an appointment.  They may be dropped off at our clinic during normal business hours.  However, please be aware that due to time constraints, feral cats may not have surgery the same day that you drop them off without an appointment.  To schedule an appointment, please call 904.425.0005.
All feral cats must arrive at the clinic in a humane trap - no exceptions!  You can rent a humane trap from FCNMHP with a $100 refundable deposit.  Traps can also be purchased from most local hardware stores.