Adopt a Pet
About Mega Pet Adoption Events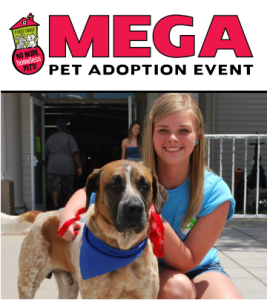 First Coast No More Homeless Pets hosts, plans, and funds the largest adoption events in the country four times a year. We partner with shelters and rescues from all over Northeast Florida and beyond. More than ten groups bring in their adoptable dogs, cats, puppies and kittens together in one place in hopes that each one will find their forever home.
Over 1,000 homeless pets find their way to the Jacksonville Fairgrounds at each event, with most finding homes. On average, approximately 8,000 people attend these events with a mission to find their perfect pet. Pets remaining at open admission shelters normally get pulled by limited intake shelters on Sunday afternoon – thus emptying out their shelters and allowing for more space. The purpose of hosting these events is to truly work on our mission, which is to end the killing of dogs and cats in shelters by ensuring that shelters will not have to euthanize for space.
Since we started hosting our Mega Adoption events in 2012, they have proven to be extremely successful. To date (December 2014), the events have saved the lives of 8,077 dogs and cats!
Mega Adoption events are the largest of their kind in the nation and at our July 2014 event, we set a record — 1,165 dogs and cats found homes. These events are an important part of maintaining Jacksonville's no-kill status and helping surrounding areas and the nation follow suit. We have also consulted with several communities to help them create and host their own Mega Adoption events.
We want and need to continue hosting the Mega Adoption events, but they are costly. Please continue to support our efforts through donations, sponsoring and attending our events, volunteering, and be-questing us in your will. We won't rest until there comes a day when there are truly no more homeless pets.
Download our latest Mega Adoption Flyer.
---
Dates
April 17-19, 2015 | 10am-6pm each day | Download Flyer
July 17-19, 2015 | 10am-6pm each day
October TBD
December TBD
---
Sponsors
Hosting the Mega Adoption Events can be very costly. A special thanks to our sponsors for helping us fund these events!
Events sponsored in-part by:

---
In the Media
Coming Soon!
---
Partners
Animal Care & Protective Services (ACPS)
2020 Forest St. Jacksonville, FL 32204
904.630.CITY
www.coj.net/pets

Adoption Hours:
Tuesday-Saturday: 10 a.m. – 6 p.m.
Sunday-Monday: CLOSED


Jacksonville Humane Society (JHS)
8464 Beach Blvd. Jacksonville, FL 32216
904.725.8766
www.jaxhumane.org

Adoption Hours:
Monday-Friday: 11 a.m. – 6 p.m.
Saturday: 10 a.m. – 5 p.m.
Sunday: 12 p.m. – 4 p.m.

---
Adoption Trail
Looking to adopt a pet, but the next Mega Adoption Event is too far away? Check out our Adoption Trail Brochure for a mapped list of all adoption centers in the area, including a $10 off coupon for our veterinary clinic for newly adopted pets!
---
Adopt a Prison Dog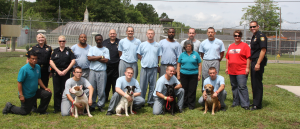 Dogs with behavioral issues are often hard to adopt. These dogs are given a second chance through our Teaching Animals and Inmates Life Skills (TAILS) program, where they are placed into Florida prisons to be rehabilitated. Each dog is assigned three prisoners who have been trained to care for, socialize, and teach the dogs obedience skills. Be sure to consider our graduating dogs as our new pet!


---