Pet Food Bank Donations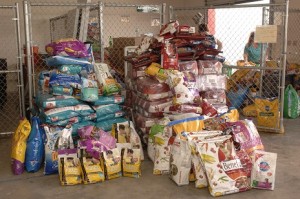 The Jacksonville Pet Food Bank is run by volunteers and relies on your donations.  Pet food is distributed to qualified low-income families whose pets are spayed and neutered. Together, we have helped feed over 7,500 pets!  Please help us keep up this life-saving work.
How do I donate?

Donations are accepted Monday through Saturday 8:00 am – 6:00 pm at the FCNMHP clinic at 6817 Norwood Ave, Jacksonville, FL 32208.  We can also pick up donations over 200 lbs.  Please contact volunteer@fcnmhp.org to schedule a pick-up.

What do I donate?

Cash donations, pet food of all types, other supplies, and volunteers are always needed!  Click here to see our list of Pet Food Bank needs. Contact us at volunteer@fcnmhp.org to volunteer for this monthly event.

Can I host my own food drive?

Yes!  Our step-by-step guide makes it easy to get started.  We'll even provide you with advertising materials and tables if needed.  Simply find a retailer (grocery store, pet food store, etc.) and get permission to set up out front.  If you have questions or need help, contact us at volunteer@fcnmhp.org.