Staff & Board
Staff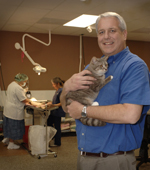 Rick DuCharme
Founder & Executive Director
Email Rick

As a child, Rick DuCharme would bring home any stray pets he came across. Together, he and his mother would bring the pets to the city shelter. One day, Rick's mother revealed to him that the pets they brought to the shelter may not have made it out alive. The seed for a life in animal welfare was planted.
While working in the heavy equipment industry, Rick began volunteering at various animal shelters and rescues. For years, he observed and researched the issues surrounding homeless pets and became an advocate for an effective spay/neuter program in Jacksonville. Rick brought experience in sales, marketing, and management from his previous career when he was appointed to the "Mayor's Task Force for Animal Control" in 2001.
With Best Friends Animal Society serving as his mentor, Rick founded First Coast No More Homeless Pets a year later with the mission to end the killing of dogs and cats. Many programs later, FCNMHP has helped reduced euthanasia rates in Jacksonville, Florida by an astounding 90%. Rick also consults with and mentors groups across the country with a goal to help the entire nation reach a no-kill status by 2024.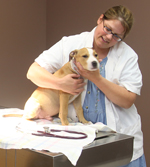 Dr. Kelly Farrell
Medical Director
Email Dr. Farrell

Dr. Kelly Farrell achieved her Doctor of Veterinary Medicine degree from Cornell College of Veterinary Medicine in 1992. Dr. Farrell has previous experience in establishing new high-volume spay/neuter programs as well as expanding existing ones. She helped launch the Planned Pethood Clinic, the first in the region, in Boones Mill, Virginia. Likewise, she established Angels of Assisi in Roanoke, Virginia which covered 10 counties and included both a mobile unit and fixed clinic.
She served on the American Society for the Prevention of Cruelty to Animals (ASPCA) and PetSmart Charities Spay/Neuter Task Force from 2006 to 2008, and assisted in the publication of The Association of Shelter Veterinarians "Veterinary Medical Guidelines for Spay/Neuter Programs" in 2008. She currently presents at humane and veterinary medical conferences around the nation on topics such as Early Age Spay/Neuter and Feral Cat Coalitions. She is a member of the Association of Shelter Veterinarians, Association of Veterinarians for Animal Rights, American Veterinary Medical Association, Florida Veterinary Medical Association, and the Jacksonville Veterinary Medical Society.
Dr. Farrell has also helped create feral cat clinics and no-kill adoption centers. She joined FCNMHP in 2009 and organized the start-up of our Community Pet Wellness Clinic, including assisting with the building design. As the Medical Director, she supervises the FCNMHP clinic to ensure patients receive consistent high-quality care.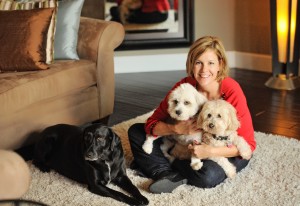 Nicole Brose
Development Director
Email Nicole

Nicole is a graduate of Purdue University with advanced training from the University of Massachusetts and University of Auckland, New Zealand. Nicole has extensive experience in marketing, fundraising, strategic planning and grant writing in the non-profit, corporate and educational arenas. For several years Nicole served as Executive Director of the Flagler County Education Foundation, completely re-branding the organization and creating programs to enrich the lives of children. During that time, she worked closely with the local animal welfare community.
As a current active member of the Board of Directors for the Flagler Humane Society, Nicole also served as Interim Director. Nicole was Vice-President of Business Development for CIC Planning Group, Inc., located in Florida. In that position, she oversaw planning and grant development, working with a diverse group of clients that included government entities and educational institutes. Her work with marine mammals and in education has taken her to Australia, New Zealand, the United Kingdom, Hawaii and Cape Cod, where she conducted educational classes concerning the environmental issues impacting their habitats.
Board appointments have included Jacksonville Mayor's Animal Task Force, Second Chance Rescue, Big Brothers Big Sisters of NE FL, Mayor's Task Force on Health and Wellness for NE FL, George Washington Carver Foundation, and the Women's Health Council. From a young age, Nicole has been active in her community, involved not only in animal welfare but also with various other efforts, such as Rotary. Nicole brings a lengthy history of dedicated and passionate advocacy for animals and children. She also has a love of horses (owns a rescue horse) and has helped create equine-assisted therapy programs for non-profit groups.
Along with Rick DuCharme, Nicole also dedicates her time to national consulting to help the entire nation reach a no-kill status by 2024.
---
Board Members

John Willis – Board President

Justin Ashourian – Board Vice President

Debbie Fields – Board Past President

Emilie Johnson – Board Secretary

Tom Moilanen – Board Treasurer

Lee Conway – Board Member

Joseph A. Strasser – Board Member

Michele Mastrean – Board Member

Martin Rees – Board Member
Special thanks to Joseph A. Strasser for funding our clinic — Joseph A. Strasser Animal Health & Welfare Building.